Top 5 Nft Games For Making Money
Molly Jennings
We talk about the most popular games in the "play and earn" format: watch, learn and earn money by playing
Until now, making money from games has been like a one-way street. Publishers release the game on a digital platform such as Steam, Epic Games Store, Origin, GOG or Green Man Gaming and charge players for access. Often, in-game purchases for character customization and weapons are even completely paid games.
These monetization models are predicted by Statista to generate up to $65 billion in revenue in 2022.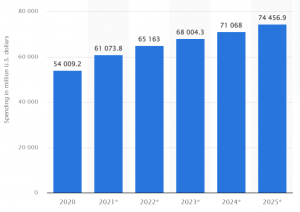 Free-to-play games earn exclusively through in-app purchases. Case in point: Roblox, with its impressive 43 million daily users, relies on Robux to fund the game. Fortnite has V-Bucks. However, both in-game currencies are rudimentary.
They are simply some points converted from fiat money. For example, for $32, you can get 5,000 V-bucks, which the player can spend on dance moves, emotes, outfits, gliders, etc. Digital assets are permanently linked to this game account. Players cannot control them.
This is why, with the exception of special esports events and sponsored broadcasts, there was no way for gamers to make money.
Read More: Few Best Games on the Metaverse
NFT games are completely changing this dynamic, revolutionizing the relationship between developers and players. Typically, developers achieve this by establishing an in-game economy based on two types of digital assets – NFTs and the game's native tokens.
What Makes NFT Games Revolutionary
To understand what is new, it is best to show with an example. Ubisoft, one of the largest North American video game publishers, was the first to pave the way for NFT games.
The first NFT game was the shooter Ghost Recon Breakpoint from Tom Clancy's iconic franchise. On the Quartz marketplace, players can trade in-game NFTs they have earned by playing the game. These NFTs range from weapon skins to limited edition gear called Digits. Thus, these are standard customization items, but they can be exported outside of the game.
The NFT marketplace runs on the Tezos network , a fast and green proof-of-stake blockchain. The native cryptocurrency of the ecosystem is XTZ, which is what you need to buy NFTs.
The Industry Is Growing Fast
Ethereum remains the most popular blockchain for NFT marketplaces. It runs over 2900 dApps. Recently, however, many marketplaces have also begun to connect to Tezos. For example, OpenSea, the largest NFT marketplace with a trading volume of $14.68 billion, announced Tezos NFT. Rarible also supports it.
Buying and selling NFTs is easier than ever. You just need to install the MetaMask wallet extension and link it to the NFT marketplace. This Web3 integration is a key revolutionary step in exporting in-game resources to the wider world.
In a new video on the BeInCrypto Russia Youtube channel, we will look at how popular "play-to-earn" games work.