The Trader Spoke About The Relationship Between Bitcoin And The S&p 500 Index
Admin
Vadim Shovkun, a practicing trader and founder of the Crypto Shaman project, talks about the current situation on the market.
Bitcoin is in an ascending channel, and there is an opportunity to evaluate scenarios for future movement. However, consideration of the price prospects of cryptocurrencies should begin with an analysis of the stock market due to its direct dependence on the situation in the world.
S&P 500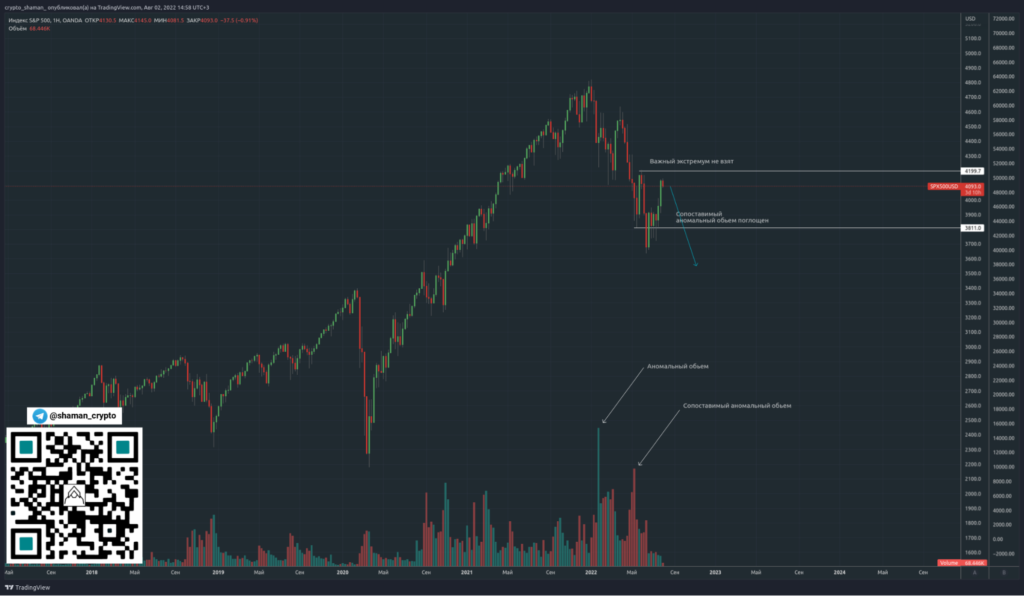 The S&P 500 saw historically anomalous volumes in January. More or less comparable figures were also recorded at the end of spring. 
The falling low after the formation of volumes in May was "broken" in June. At the same time, the price tried to form a rebound. 
So far, a vital extremum at $4,199 has not been taken, and the downward trend continues. Locally: the expectation of a decrease and renewal of the local minimum.
Considering the problematic geopolitical situation (the crisis in Europe, the recession in the American economy, the possible tension in US relations with China, and the war in Ukraine), events are just beginning to unfold. Against this background, it is unlikely that the bottom of the S&P 500 will pass. 
For a fundamental change in the situation, the index must overcome the $4199 mark and form a low above the last local minimum on the next wave of decline. Then it will be possible to talk about an attempt to reverse the downward dynamics.
Bitcoin
The ascending channel has been active for a month and a half and continues to receive confirmation from weak highs updates.
It is worth considering the nature of the movement within the ascending channel. The buyer's aggression grows by increasing the angle of attack. On the positive side, the price has rebounded from the PoC and re-fixed above the $22,100-$22,600 area.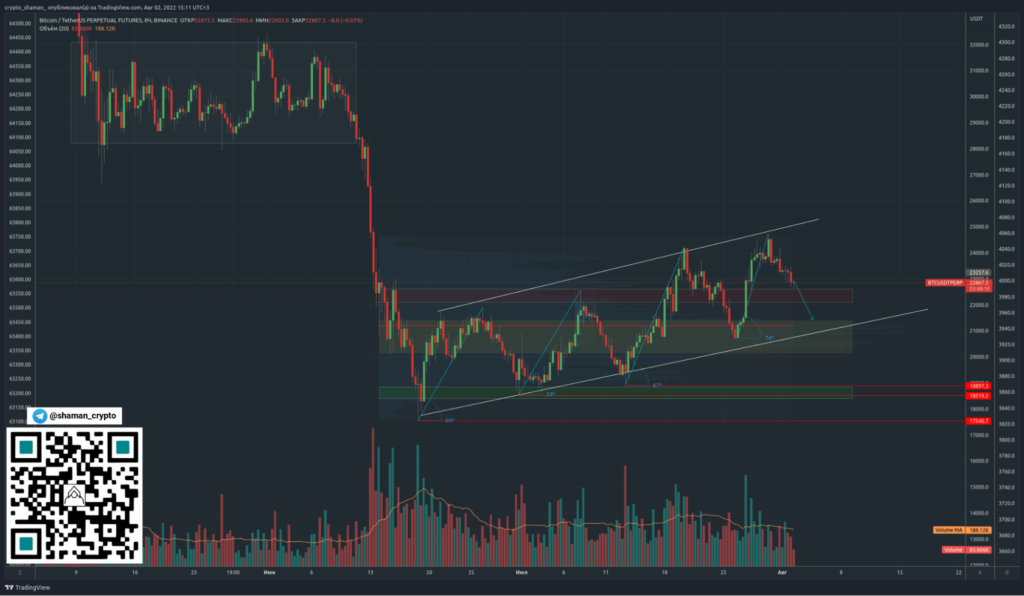 For the S&P 500, likely, the lows will still be updated in the next couple of months. This will inevitably pull the first cryptocurrency along with it. The price is flat; it may stay there for several more weeks.
A decline to the $21,000 area is likely, or the upward channel will work out to its height – to the level of $17,000 (worst case scenario).