The Damage From The Hack Of The Nomad Cross-chain Protocol Was Estimated At $ 8.9 Million
Admin
The loss of users of the Nomad cross-chain bridge in the Cosmos ecosystem due to a hacker attack amounted to $8.85 million. The team is trying to restore the liquidity of the project.
The developers explained their calculations by estimating those assets blocked in the protocol at the time of the hack on August 2.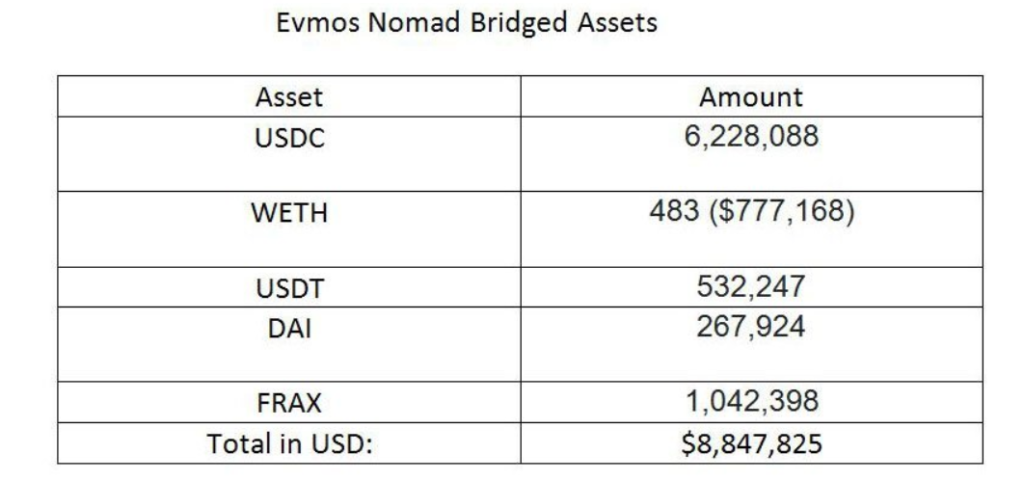 The actual loss could have been $190 million as the USDC wrapped on the Evmos network lost its value due to the theft of tokens from the project's address on the Ethereum blockchain. A similar situation arose for other wrapped assets.
According to DeFi Llama, the TVL of the project is $98,263. Before the attack, the figure exceeded $180 million.
The team is counting on the return of part of the stolen funds. Many users took advantage of the vulnerability, but some took it to secure part of the project's assets. They expressed their willingness to return the funds in the future.
The developers expect that they will be able to return 10, 20, or 30 cents for every stolen user dollar. They found it challenging to give a specific assessment.
The incident did not affect both the CW-20 standard tokens in the Evmos network and the native tokens of the EVMOS project. The cross-chain protocol was hacked, not the blockchain itself. 
Many users massively converted USDC and Ethereum assets to EVMOS after the attack. This led to significant volatility of the latter. According to CoinGecko, the token's price more than tripled instantly, from $1.4 to $4.79, before returning to $1.48.
In April, Nomad cross-chain bridge developers raised $22 million in a seed round led by Polychain Capital.
Recall that on June 24, the Harmony blockchain platform reported an attack on the Horizon cross-chain bridge, as a result of which the attackers stole assets worth about $100 million.