Nomad Hackers Recover $9 Million Of $190 Million Stolen
Admin
Unknown attackers who attacked the Nomad cross-chain bridge returned $9 million in cryptocurrencies to the project address
The hackers who hacked the Nomad cross-chain bridge returned about $9 million in cryptocurrencies to the developers. This is reported in the research firm PeckShield regarding transactions.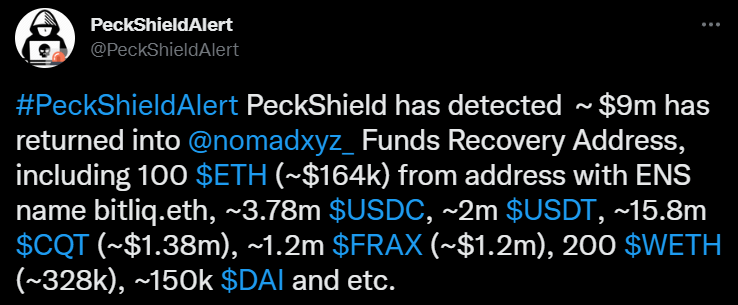 Despite the return of $9 million, the vast majority of the stolen cryptocurrency still ends up in attackers' wallets. As calculated by PeckShield, about 50% of the stolen $190 million continues to remain in at least three attackers' wallets:
0x56D8…Aac4e3.

0xB5C5…93590E.

0xBF29…827179.
Under what conditions exactly did the hackers return the cryptocurrency and what exactly became the reason remains unknown. At the time of writing, Nomad did not comment on the return of some of the stolen cryptocurrencies.
Recall that the Nomad cross-chain bridge was hacked on August 2. For unknown reasons, the bridge configuration introduced the ability to receive 100 WBTC in exchange for the sent 0.01 WBTC.
In early 2022, Ethereum co-founder Vitalik Buterin said that blockchain applications should not strive for unity through cross-chain bridges since the price of compatibility will increase in the number of vulnerabilities.
According to him, during a 51% attack, attackers can violate the integrity of the conversion of incompatible cryptocurrencies. For example, when controlling the network, an attacker can cancel a transaction based on the results of the conversion between tokenized assets (for example, SOL /WETH). In this case, the attacker will have more cryptocurrencies in his hands, but the collateral in the cross-chain application itself no longer corresponds to the 1:1 model.