Luna Foundation Guard Reserves Exceeded 42,500 BTC
Kiana Griffin
The non-profit organization Luna Foundation Guard (LFG) has reduced the pace of purchases of bitcoin after an active recovery in the market. This is stated in a report by Arcane Research .
According to experts, after the final conversion of the stablecoins allocated for this purpose, LFG reserves will reach 65,000 BTC-70,000 BTC. The specific value will be determined by market conditions.
Analysts did not rule out that the price movement of the first cryptocurrency to $48,000 at the end of March was based on the purchase of 21,000 BTC by the organization . During the first ten days after the start of the initiative, more than $100 million was allocated daily for these purposes.
Read More: What is LUNA(Terra) Crypto Price Prediction 2022, 2025 & 2030?
After March 31, the nonprofit only returned to shopping on April 6 and 10. The specialists stressed that such tactics allowed replenishing reserves at lower prices.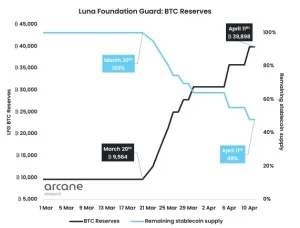 At the time of writing, Luna Foundation Guard reserves are valued at $2.44 billion. 70% (42,530 BTC, $1.71 billion) is in Bitcoin, the remaining $550 million is in USDT, USDC, and LUNA.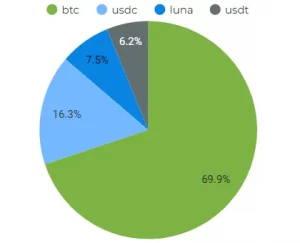 LFG was established in January 2022. Its goal is to develop the Terra ecosystem and increase the sustainability of UST. The organization is overseen by an independent board of governors that includes industry experts and heads of crypto companies, including Terraform Labs founder Do Kwon.
As a reminder, on April 14, 2022, Terraform Labs transferred an additional 10 million LUNA worth ~$880 million to LFG.
Earlier, LFG and Terraform Labs announced that they will invest $200 million in Avalanche project AVAX tokens . The goal is to expand reserves and increase the sustainability of UST.