"Don't Touch The Mnemonic Phrase." Solana Urged To Be Careful When Transferring Tokens To Cold Wallets
Admin
Solana ecosystem developers urged users not to use the old mnemonic phrase when transferring tokens to hardware wallets.
The Solana development team advises Phantom and Slope wallet users not to use the hot wallet mnemonic on physical wallets amid the massive hack. This was reported on the Solana support page on Twitter.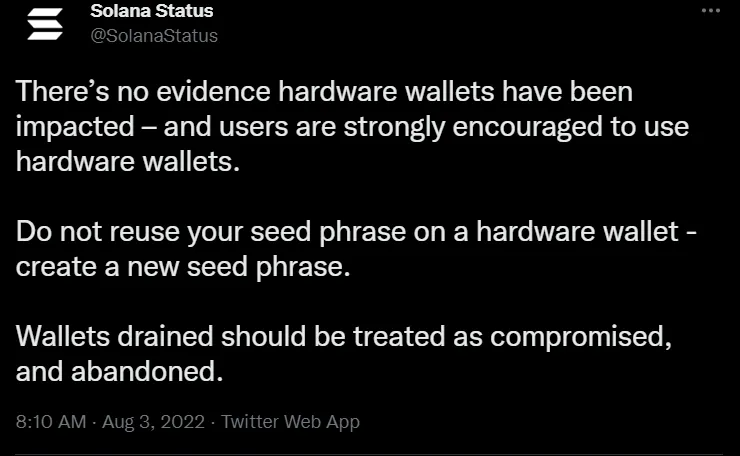 According to the developers, users of the affected wallets should forget about reusing the mnemonic phrase and create a new one already on a cold wallet. Users believe that the incident affects many more wallets, including Trust Wallet, but the very nature of the hack does not depend on the wallet.
Solana also calculated the number of affected wallets – 7767, but this figure is not final. What exactly caused such a large-scale hack remains unclear. According to preliminary data, the attacker stole about $8 million in tokens. Some nodes on the Solana network also went offline due to a suspected DDoS attack.
At the time of writing, the SOL token in the SOL /USD trading pair is down 4.5% to $39.2. The token's capitalization against the hack's background decreased to $13.6 billion.
Recall, as a researcher under the pseudonym OtterSec found out, attackers are targeting SOL and SPL tokens. According to the auditor's observations, the scammers compromised the private keys of the above wallets. The exploit, in his opinion, could also affect users of the Ethereum ecosystem.
For Solana, this is at least the fifth major incident since the beginning of the year. Before this, the network repeatedly went offline, citing constant DDoS attacks. Moreover, some investors even sued the developers of Solana, accusing the project of violating securities laws.