Big Bitcoin Billboard Appears at Zurich Airport, Switzerland
Kiana Griffin
A large billboard with bitcoins has appeared at the Zurich airport in Switzerland, according to Bitcoin Magazine. Bitcoin touted as 'best investment performer in 10 years'
The advertiser who placed the ad was Bitcoin Suisse, a Swiss cryptocurrency financial services company, and the ad was engraved with the phrase "Bitcoin has been the best performing investment asset in the last 10 years."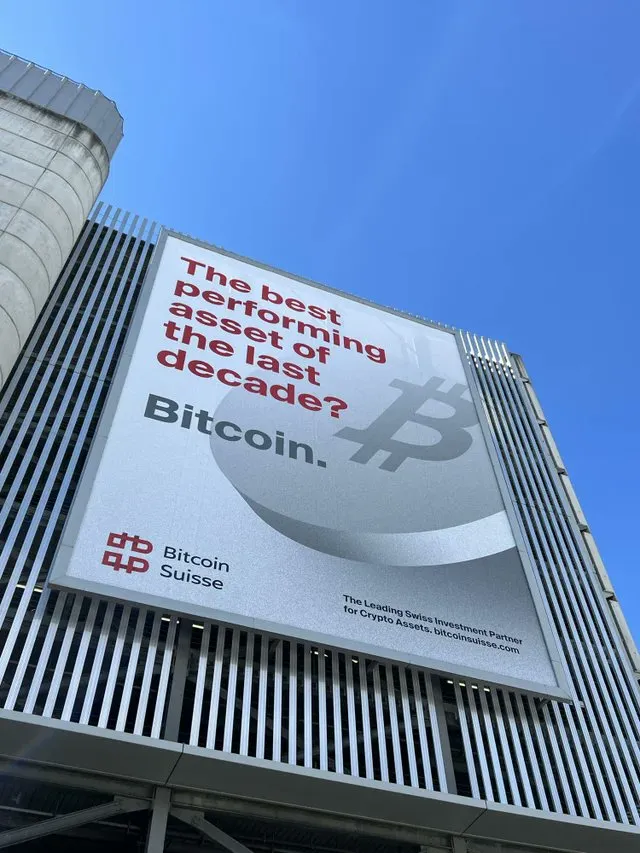 BTC is trading at $40,356 this weekend, down 0.31% on the day, according to CoinMarketCap.
This is not the first huge banner advertising Bitcoin (BTC) cryptocurrency. According to The Block Beats, the slogan Bitcoin appears on a SOGO Hong Kong billboard on February 4, 2021 , which in translation reads: "Bitcoin will continue to outperform traditional assets in 2021." In addition, the advertising billboard also displays the logos of decentralized derivatives trading platform Serum and investment company Genesis Block Ventures.
Also Read: Top Cryptos by Market Cap
In addition, in June 2021, the New York Digital Investment Group (NYDIG) launched a full-page ad for bitcoin with the slogan "Bitcoin for the people" in the American business publication Wall Street Journal. And in March of the same year, Grayscale ran an advertisement for the Bitcoin Trust Fund (GBTC) in the Sunday edition of the New York Times.
In England , a bitcoin advertisement posted by crypto exchange Luno on the London Underground drew criticism from the Advertising Standards Authority (ACA). The British advertising regulator said the advertisement for cryptocurrency app Luno gave the impression that investing in bitcoin was easy, when in fact it is "complicated" and "volatile".
Going forward, the Advertising Standards Agency (ASA) stated that cryptocurrency advertising now needs increased scrutiny and in March 2022 issued an enforcement notice to more than 50 companies that advertised cryptocurrency services, recommending that they review their ads to ensure they are in line. new recommendations.
The new guidance requires advertisers to clearly state that cryptocurrencies are not regulated in the UK and that "the value of an investment is volatile and may go down." In addition, advertising must not "claim or imply that investment decisions are trivial, simple, easy, or suitable for everyone", or "impose a sense of urgency to purchase or create a fear of missing out, or that the investment is "low risk".
Whether similar requirements will be imposed on Swiss crypto advertisers is not yet clear.