Unknown People Pumped The Token Of The Bankrupt Voyager Digital By 500%
Admin
Against the backdrop of the efforts of an unknown MetaFormLabs structure, quotes for the utility token of the cryptocurrency broker Voyager Digital (VGX) have grown by more than 500% in recent days, rising above $1 at the peak.
At the time of writing, the asset is trading near $0.54.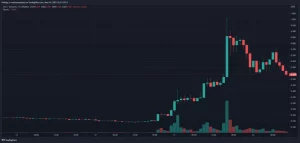 MetaFormLabs calls itself a venture company, but there is no evidence of the company's registration as a professional market participant on the web. The structure announced plans to pump VGX to the price range of $5-$8.
"We will continue to [promote] #PumpVGXJuly18 no matter the price. We have set a new target range of $5-$8. The company currently has $50 million in internal balance and $67 million promised by well-known crypto enthusiasts," the statement said.
According to a Twitter post, the structure expects VGX to enter its target range by July 18, 2022. To facilitate this, MetaFormLabs also launched the hashtag #PumpVGXJuly18 and announced its intention to place marketing materials on the billboards of "three or four capitals of the world."
MetaFormLabs explained its motive as the desire to save the owners, users, and shareholders of Voyager Digital, who "became a victim of a series of events after the collapse of the Terra ecosystem."
On July 5, 2022, a cryptocurrency broker filed for bankruptcy in a New York court. The company's estimated liabilities range from $1 billion to $10 billion with about 100,000 customers.
Voyager Digital is one of the hedge fund Three Arrows Capital (3AC) lenders. The latter could not repay the debt of 15,250 BTC and 350 million USDC, so the company sent him a notice of default in June.