Moonbird's success is being exploited by scammers who stole Bernie Sanders' son's account
Kiana Griffin
The latest Twitter scam aims to capitalize on the success of the Moonbirds. For fraudulent activities, scammers hijacked the verified account of Bernie Sanders' son.
Scammers are using verified Twitter accounts to impersonate the official Moonbirds account in an attempt to steal funds. The account of Bernie Sanders' son Levi Sanders was hacked and the name was changed to "Moonbirds". Those behind this scam seem to be using a tried and tested technique.
If you haven't heard of Moonbirds yet, there are two important things you need to know.
To start, Moonbirds is the latest collection of non-fungible tokens (NFTs) to reach blue chip status, with over $200 million in sales this weekend.
But its success has also attracted a host of scammers who use verified but apparently stolen Twitter accounts in an attempt to exploit the enthusiasm around the project and steal funds from users through links on the social network.
"What are these verified twitter accounts that keep spamming my statements to promote NFT, but then no crypto or NFT people follow them? This is weird," tweeted journalist Laura Shin, who appears to be just one of dozens of users receiving spam messages.
Justin Mezzel , co-founder of Proof Collective, the group behind the Moonbirds collection, tweeted on Monday morning that "these are scammers who buy verified accounts" and pretend to be affiliated with the Moonbirds project.
It is not clear if all the scam accounts are hacked accounts of real verified users or if the verification status is purchased. Twitter does not answer this question.
In one case, the account of U.S. Senator Bernie Sanders' son, Levi Sanders, was hacked and his name was changed to "Moonbirds". The account hijackers then posted a link on Twitter encouraging people to take part in the draw. This was followed by dozens of other tweets from the account where Twitter users were tagged.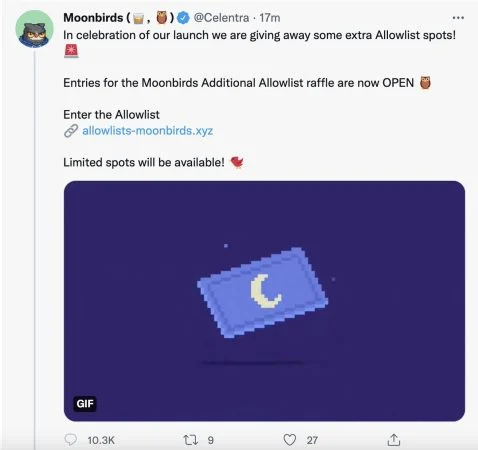 The Sanders account was then apparently taken over again by the owner: the alias was changed back to "Levi Sanders" and some offensive posts were deleted. However, at the time of writing, numerous posts tagged by numerous users are still available.
The scams follow the same pattern as other NFT-related scams on Twitter. Just last week, Twitter users were raising the alarm about verified accounts tagging users to click on a fake NFT free link to give away Azuki , an NFT collection of 10,000 avatars.
Last month, scammers used verified Twitter accounts to steal $1 million in a fake ApeCoin giveaway . One victim lost $500,000 worth of NFTs after connecting their wallet and approving transactions on a fraudulent website.
It's unclear what steps Twitter can take to prevent this kind of scam in the future. The company, which began offering NFT profile pictures earlier this year, does not specify in its current policy what happens when scammers take over verified accounts like Sanders's to scam users.
The company's spam policy states that sending unsolicited promotional messages may result in a temporary or permanent account suspension. But these measures punish users whose accounts have been hacked, not the hackers themselves.
For now, users who are aware of the issues are reporting fraudulent accounts and warning others.