Arcane Research: Bitcoin-Tech Stocks Correlation Hits Highest Since July 2020
Reed Flores
The correlation between bitcoin and the Nasdaq Composite index reached its highest since July 2020. These observations shared by Arcane Research analysts.
A similar indicator (30-day moving average) between the first cryptocurrency and gold has fallen to a historical low, with the dollar – to a minimum since March 2020.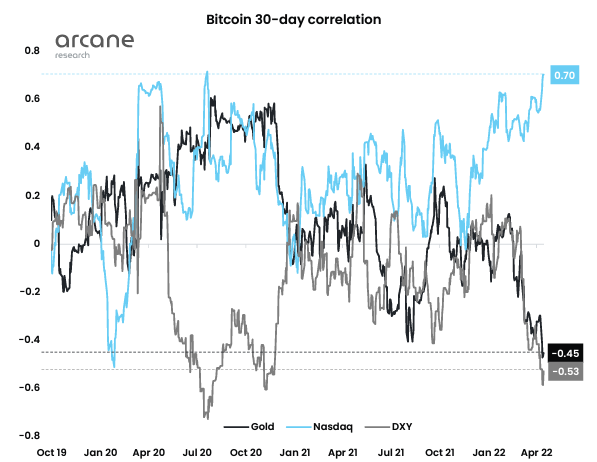 Experts explained such dynamics expectations of tightening the Fed's monetary policy. The dollar strengthened against other currencies amid forecasts of less aggressive actions by the Central Bank of other countries in response to inflation.
Rising borrowing costs are leading to a downward revision in the trajectory of high-tech stocks. The growth of the price relationship between bitcoin and the Nasdaq Composite index reflects the belonging of digital gold to the category of risky assets in the eyes of institutional investors, experts emphasized. They doubted that the correlation would remain at its current high values.
See Also: Experts Predicted A Decrease In The Profitability Of Mining
Gold is currently serving as a hedge against inflation, while bitcoin-ETP record the outflow of funds. During the first two weeks of April AUM decreased by 9871 BTC. If the current pace is maintained, the historical anti-record of July 2021 will be updated by the end of the month, when investors withdrew 13,849 BTC.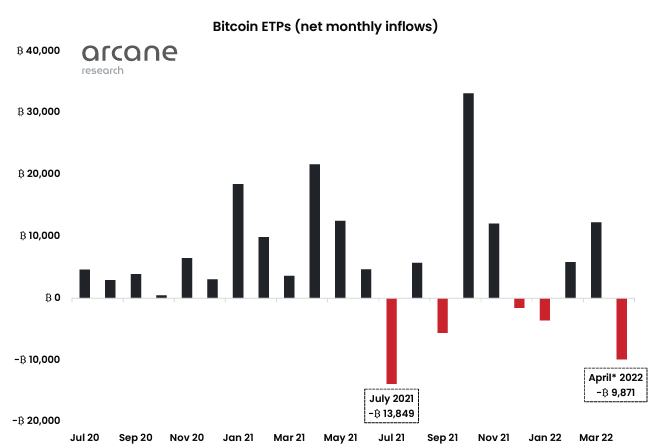 The current dynamics may indicate the upcoming formation of the bottom in the medium term. The specialists recalled that the negative dynamics of flows to funds last summer coincided with the completion of the correction in digital gold.
Recall that Arthur Hayes, co-founder of the BitMEX exchange, predicted bitcoin falling to $30,000 by the end of the second quarter due to the decline in the Nasdaq index.
Formerly Galaxy Digital founder Mike Novogratz warned that the first cryptocurrency will "take off" again, as soon as the Fed takes a break in tightening monetary policy.