$370,000 Flash Loan Attack Detected On Avalanche Network
Admin
Immediately a number of projects based on the Avalanche blockchain suffered from an attack using a flash loan, CertiK analysts found ou
Unknown people carried out a flash loan attack on the protocol based on the Avalanche blockchain, earning $370,000 in the USDC stablecoin. This was announced on Twitter by representatives of the audit firm CertiK.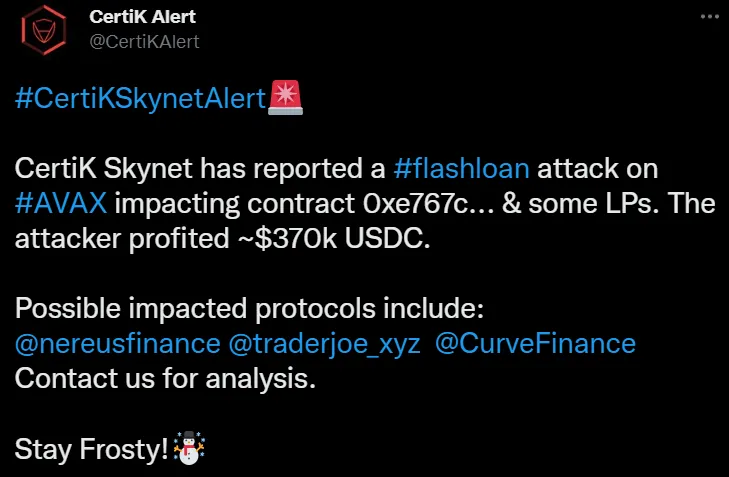 A certain address 0xe767c… was hit, as well as liquidity providers. In addition, it is reported that the decentralized exchange based on Avalance (Trader Joe), Curve Finance, and Nereus Finance suffered as a result of the attack. At the time of writing, representatives of the projects did not comment on the incident. How exactly the attackers were able to pull off the attack remains unclear.
In April 2022, Avalanche's developer Ava Labs raised $350 million at a $5.2 billion valuation. It's unclear who exactly took part in the investment, as the round was not public.
At the end of August, Ava Labs was suspected of legal harassment of competitors. Recall that a series of video interrogations appeared in the media, in which the founder of the law firm Roche Freedman revealed a connection with Ava Labs.
According to Kylie Friedman, co-founder of Roche Freedman, Ava Labs has allocated 1% of the total supply of AVAX tokens (7.2 million) to the legal prosecution of competitors Solana and Dfinity. At the current exchange rate, this is almost $130 billion. In addition, the shares of the developer company itself will go for these purposes. According to Friedman, lawsuits against Solana and other participants in the crypto market have diverted the attention of US regulators from Ava Labs. Ava Labs founder Emin Gun Sirer balked at the allegations, calling them "conspiracy theory nonsense."