Lido Community Rejects Sale Of 10m LDOs To Dragonfly Capital
Admin
The Lido Finance platform community has voted against a proposal to sell 10 million LDO tokens to venture capital firm Dragonfly Capital.
"The DAO seeks to create a position in the DAI stablecoin in exchange for 1% of the LDO supply (10 million tokens) at a price of $1.452153, with a total value of $14,521,530 $DAI," the description of the offer states.
Voting lasted from 21 to 25 July. About 600 members of the DAO attended it. 43 million LDOs (66.61%) voted against it.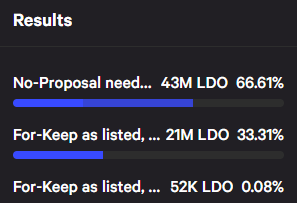 The proposed token sale was part of a plan to diversify Lido's treasury. He envisaged the sale of 20 million LDOs, of which half was to go to Dragonfly Capital. In this case, no lockup period was envisaged.
The current volume of assets in Lido's treasury is $223.3 million, including:
157.8 million LDO worth $216 million;

20,940 ETH ($29.7 million);

5113 stETH ($7.11 million).
In June, the project community proposed limiting the protocol's share of the Ethereum 2.0 staking pool.