Ethereum Name Service Domain Name Sales Soar Ahead Of Merge
Admin
Blockchain domain name aggregator Ethereum Name Service (ENS) has been at the peak of popularity recently as the crypto community prepares for an imminent upgrade of the Ethereum network.
Ethereum will upgrade next week
In the coming days, the long-awaited update The Merge will take place in the crypto space – the transition of the entire Ethereum network from the energy-consuming  PoW consensus mechanism to PoS, which is considered more environmentally friendly. Tentatively, the migration of the entire Ethereum network to the Proof-of-Stake (PoS ) algorithm will take place on September 13.
In anticipation of this long-awaited event, the crypto community is showing an explosive interest in the Ethereum Name Service ( ENS ) blockchain domain name aggregator.
This service for naming addresses, wallets, and other identifiers on the Ethereum blockchain was created to make it easier for ordinary users to make transactions with cryptocurrency. It converts complex and long strings of machine data consisting of numbers into more familiar and easy-to-read names of addresses, wallets, and other identifiers.
The system is similar to the traditional Domain Name System (DNS) used in Web2, but runs on the  Ethereum blockchain and is used for Web3. Each domain name has  .eth  at the end and can be attached to crypto wallets, decentralized websites, or hashes. Domain names can also be traded on secondary marketplaces such as  OpenSea.
ENS Domain Name Sales Explode
According to DappRadar, ENS traded $2.44 million in the last 24 hours, making it the number one top NFT collection aggregator.
In addition, over the past day, the number of traders increased by 45%, and the number of sales – by 67%. Thanks to these figures, ENS was able to overtake even such a heavyweight as Bored Ape  Yacht Club ( BAYC ).
Also, ENS was able to break into the leaders of the rating among NFT collections on the largest NFT market OpenSea. Here he took first place in terms of 7-day trading volumes, also surpassing BAYC .
NonFungible statistics also show an increase in sales over the past week. Their peak was yesterday and amounted to $1,896 million. The upcoming Ethereum update had a particularly tangible effect on secondary sales. They soared by 137%.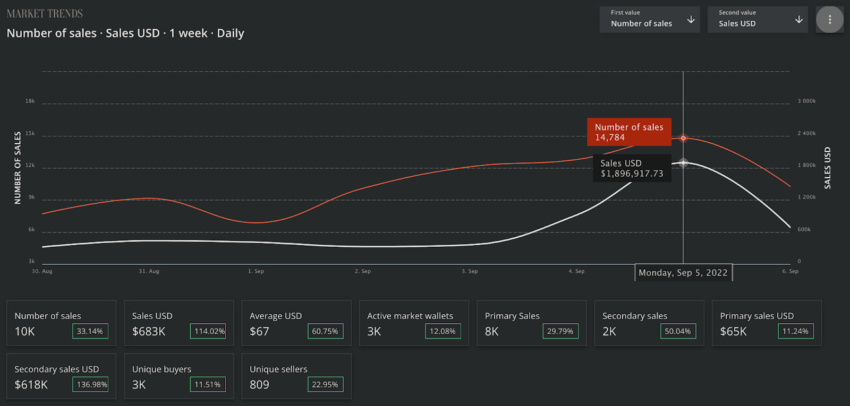 Recall that this May was the month of record achievements for the ENS service in almost all monitored metrics, including indicators of new registrations, user retention, revenue, and income (in ETH & USD). In addition, in July, ENS overtook the entire Bitcoin network in terms of weekly commission volume.
Buterin's Tweets
Apparently, the surge in secondary sales indicates that sellers are looking to cash in on the current hype around Ethereum, and buyers are hoping that they will be able to resell their acquisitions at a higher price in the price rally after the network upgrade.
Ethereum co-founder Vitalik Buterin even reached out to his Twitter followers to ask how much they consider a fair price for a .eth domain name.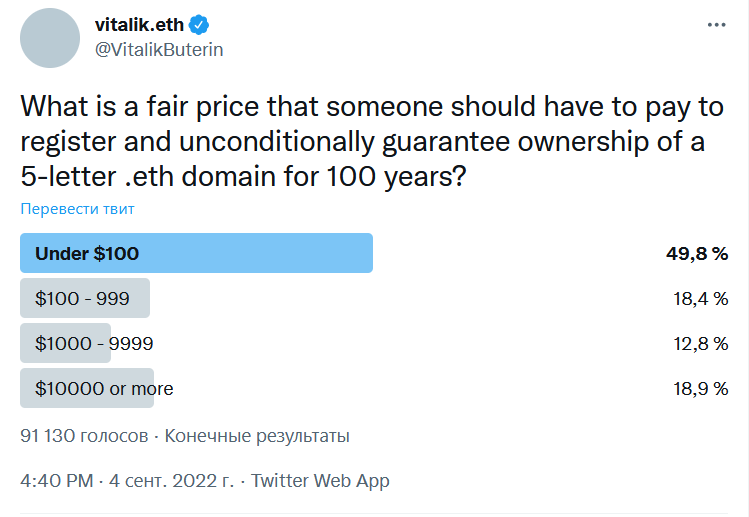 Source: Twitter