Coingecko Calls 2022 A "Terrible" Year For The Cryptocurrency Industry
Admin
In the second quarter of 2022, the total cryptocurrency market capitalization fell by more than 50%, while the DeFi sector decreased by almost 75%. This is stated in the CoinGecko report.
"It looks like 2022 is going to be a terrible year for the crypto market. […] Compared to now, the first quarter appears to be the calm before the storm," the analysts wrote.
According to CoinGecko, the top 30 cryptocurrencies are down 68% from their November 2021 peak of $1.8 trillion. The reason is the collapse of the Terra ecosystem and the problems of significant industry players that followed it.
Analysts noted that spot trading volumes remained "relatively stable" in the second quarter. The observed bursts are also due to the above factors.
Another reason for the collapse of the crypto market was the global macroeconomic crisis. This is evidenced by the high correlation (0.9) of the S&P 500 index with the capitalization of the 30 most significant digital assets.
During the second quarter, the capitalization of the DeFi sector decreased from $142 billion to $36 billion. The sharp drop in TVL coincided with the collapse of the Terra ecosystem – at its peak, its figure exceeded $35 billion, according to DeFi Llama.
Analysts drew attention to the decrease in on-chain activity in decentralized applications – a drop in the daily number of users by 34.5% was recorded compared to April 1, 2022.
General market shocks also cause bursts of the indicator. After the collapse of Terra, users massively withdraw funds to the Curve Finance and Uniswap protocols. After discovering the problems of Celsius and other centralized platforms, they turned to DeFi services.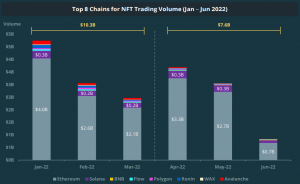 During the reporting period, NFT trading volume also decreased by 26.2%. In June, the figure was $830 million, which is the worst result in the last year.
Investor Michael Burry, who previously predicted the 2007 mortgage crisis, admitted that the current market situation is in the middle of a bearish cycle for bitcoin.