Shiba Inu Developers Unveiled The Name Of The Themed NFT Game
Admin
The creators of the Shiba Inu ecosystem announced the name of the upcoming mobile NFT game based on the meme altcoin.
Shiba Inu meme altcoin project (SHIB) will soon get its own mobile NFT game called Shiba Eternity. Representatives of the project announced this on their Twitter.
The game is being developed by PlaySide Studios, who created the mobile games The Lego Batman, Rise of the Teenage Mutant Ninja Turtles, Age of Darkness, and more.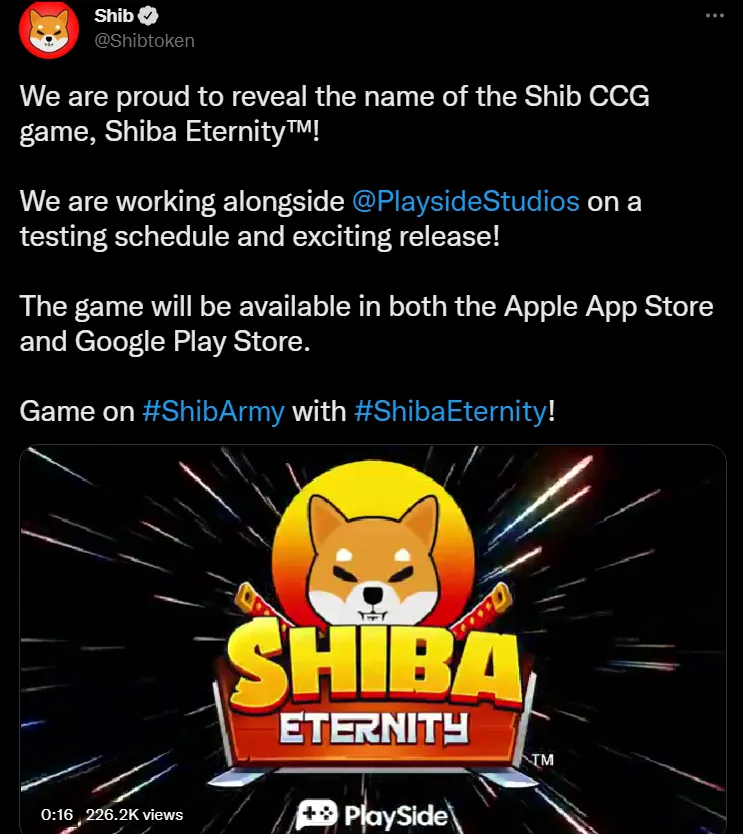 The game idea of ​​Shiba Eternity and the gameplay of the game remain unknown. According to unofficial information, the mobile game will support about 1000 different non-fungible tokens in the Shiba Inu universe.
The only thing that Shiba Inu representatives themselves confirmed at the time of writing is the cross-platform nature of the game: it will be released on both iOS and Android. However, it is not clear whether the game will be available on different platforms immediately after the release. The release date of the game remains unknown.
The announcement has not greatly inspired the crypto community. When writing, SHIB quotes in the SHIB/USDT trading pair are up just 1.5% to $0.00001193. The market capitalization of the meme altcoin is $6.6 billion.
In addition to the mobile video game, the ecosystem will soon be complemented by a stablecoin, a new reward token, and a collectible card game created for the future Shibarium metaverse. The stablecoin has already been given a name – SHI. According to the developers, the stablecoin was independently created by "a group of developers in a decentralized network," which will allow it to "avoid the problems found in other assets in this category.